Flounder Gigging Report for Fernandina Beach, FL 7/14/17
Gigging Report.  Wade gigging. Friday, July 14th 2017.  North End of Amelia Island.
Time: Feet in water 8:30pm. Out 11:00 pm before South End scouting.
Tide.  Low tide incoming.  We started about a half hour after incoming tide.
Water Conditions.  Windy and lots of ripples.  About half of the walk, the water was too murky to see bottom.
StabbyFish Team.  Myself (Bill), "Doormat" Gary and Dallas.
Wildlife Sightings.  We got a close up look at a deer fawn on the way out and 4 deer in the field, possum,  Ghost crabs, horseshoe crabs, blue crabs.  Another stone crab we couldn't harvest.  Pinfish, baitfish, mullet, glass minnows.  The needlefish mafia still has a hit out on Dallas.
2 keeper flounder including Gary's doormat,  and several baby flounder.  We netted a 5 gallon bucket full of  blue crab.
Flounder Gigging Report.  
It's been a rainy few weeks here in the Fernandina Beach area and not much opportunity for flounder gigging.   We finally found lull in the storms.  Called Dallas and Gary for a long overdue trip.  Dallas and Gary are Florida natives and lifelong flounder gigging pros, so I knew it was going to be a good night.
The tide was just on the other side of low and incoming for about a half hour by dusk we we started.  Water conditions were just about perfect, a light breeze and good visibility everywhere except in the silty bottoms.
Blue Crab Bonanza! There were blue crab everywhere, and it didn't take long to fill up my 5 gallon bucket backpack.  We spotted several baby flounder early and the shallows were alive with bait fish.  It wasn't until about halfway down our walk before we got our first stab, but this one was worth the wait.
Doormat Skill Shot.  Gary scored a skill shot on a moving doormat flounder in deep water next to the rocks.  He was at a bad angle with a barbless gig and caught just 1 barb in the shoulder of the flounder.  Gary requested an assist, and Dallas pinned the tail (he thought it was the head, but these things happen in the heat of battle.) With that, they landed this 24" 5.3 lb monster.   This flounder is a thick fish that will yield some beautiful fillets.
The Needlefish Mafia.  Dallas continued his comical, ongoing battle with the needlefish, which seem to unfairly target Dallas for harassment and attacks.  I have seem this behavior firsthand on a number of trips.  I concluded that the Needlefish Mafia have a hit out on Dallas, and intend to leave my friend literally and figuratively "swimming with the fishes."  Not one to sit idly by and wait for his ultimate end, Dallas beached several of his attackers as a message up to the big boss.  We'll have to wait to see how this showdown ends.
Consolation Prizes.  Despite the clear water, plentiful flounder food swimming around in the shallows, and lots of lights and eyes on the bottom, we only stabbed one additional average flounder for the night.
Scouting the South End.  After about a 2 and a half hour walk, we decided to scout the south end of Amelia Island.  We traveled to the south end of the Crady Bridge and braved the rocky climb down under the bridge pilings.  There was little wind. But waves and no visibility squashed any hope of a walk out towards the inlet.  We headed inland and eventually found some calm water and clear bottom. Aside from a lone baby flounder and a few blue crabs there was nothing to see.
We decided as a last-resort to try the north side of the Crady Bridge "just in case."  There was alot of activity with vehicles on the beach and folks fishing from the shore, but we saw more of the same with rough messy water and no visibility.  We took the short walk under the bridge pilings inland but no luck so we called it a night.
A small side story - the bucket of crabs was filled to the brim. We all checked when we got home to make sure none escaped, but I guess we failed.  The next day my kids were giggly when they discovered 2 live blue crabs scurrying around the floor of the car.  My wife Wendy did not find my mistake quite as funny...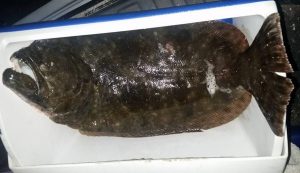 To see photos and stories from all of our fishy adventures,
please "Like" our StabbyFish Facebook Page.  
Join in on the discussion at
Flounder Gigging Fanatics Group
and post your pictures!